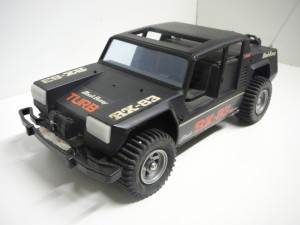 This page is really just a way for me to keep track of what cars I have and in what state they are in.
Since a young age I've always been interesting in rc cars. I could never really afford many though. These are the cars (and some static models) I am collecting, many I wanted as a teenager. The idea of this is for me to sort out what I have, the condition and what I need to do to restore them to drivable condition. While most are rare-ish I do enjoy taking them out now and then as they are meant to be enjoyed!
A large portion of my cars from the late 70s or early 80s and represent and early period in radio control history at a time it was taking off and before other distractions such as video games and computers.
Since parts are not always easy to come by, I also plan and making many parts so I can get the cars in a drivable condition. Luckily I have access to a cheap chinese desktop cnc machine, which is limited but enough to make some parts such as chassis plates, swing arms etc. I also in the process of learning how to re-mould pieces from parts I have.
My collection can be broken into:
Tamiya Top 100 cars
Although I am not specifically interesting in collecting the top 100 (58001 to 58100) cars, there are many I wanted as a kid including the Sand Scorcher and Hot Shot. As I collect more cars, I find my interests changing and developing. I am most interesting the some of the top 20 cars and trying to restore the ones I have managed to collect so far. This will mean vastly improving my model making skills!
Other Tamiya Cars
Even though much of my collection is based on the 70's and 80's cars that Tamiya made, I still come across some the newer kits that hold an interested and I will link here kits I have come by.
Other RC Cars
I have some non Tamiya cars in my collection, most I didn't intend to collect, but I find there interesting no the less. In my younger years I was only really aware of Tamiya and Marui RC cars (besides the cheaper ones you could get at places like Tandy Electronics), but have since found a large and diverse range of cars that exist. I now have several of these including a Nichimo Luminous, Aoshima Skynet Fj40 (body only) and a HBX clone of a TL-01.
Static Models
I use to enjoy model making as a kid, making mainly army vehicles or model cars. My two most prized models are a Tamiya 312T4 Ferrari that I started when I was about 15. I have all parts, but no decals or manual, but thanks to the internet I have found a manual and I can make my own decals.
The other model I cherish is a Otaki 1/12 scale Lamborghini Countach LP400. I am lucky that I have two of these, one is the model I started as a 12yr, was never finished and trashed over the years. The other is a complete kit my father bought at the same time. I intend to use the complete kit to replicate enough parts to make the former good enough to be used as a shell on a home made rc car.
With the cheapness of online stores like Hobbyking, I've also been able to collect some planes and helicopters.